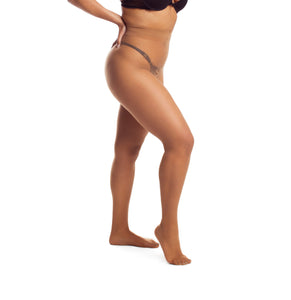 Indulge yourself with these sheer unisex tights that offer an invisible look while covering pesky unevenness on legs that every man and woman experience. These 15 denier beauties offer a polished look that keeps tongues wagging from day to night.

The longer groin to elastic band top length makes this the perfect style for men, women and all people in between!
The tights are made from highly durable materials that are also known for extraordinary elasticity. This particular product has a lovely yellow undertone.

Material: Polyamide 84%, Elastane 14%, Cotton 2%